Category Archives:
Blog
Google has upgraded the free storage limit from 5 GB to 15 GB for all existing and new google accounts. Few months after Google+ launch, google has made this announcement in their blog with new paid storage plans as well. 15 GB is sufficient for regular user who frequently moderates the Emails they receive and rarely upload photos and other documents in their Google Drive Cloud Storage. But Google constantly working on introducing new services to make the experience better for its users.
How to Upgrade Gmail Storage ?
If you dont want to delete any existing emails with tons of attachments in it or getting a notification in your Gmail that your about to exceed the free storage limit, then consider upgrading your google account storage. Google+ stores high resolution (2048px) photos and videos that you take on your digital camera or smartphone. So if you want to store more files then the chances of exceeding the free storage limit is high.
As you can see in the above screenshot, You can choose $5 a month plan to get 100GB Google Cloud Storage. If you have more requirement then feel free to choose the best plan that suits you and upgrade google storage to your account. Following are the screens of some more high storage plans available to upgrade.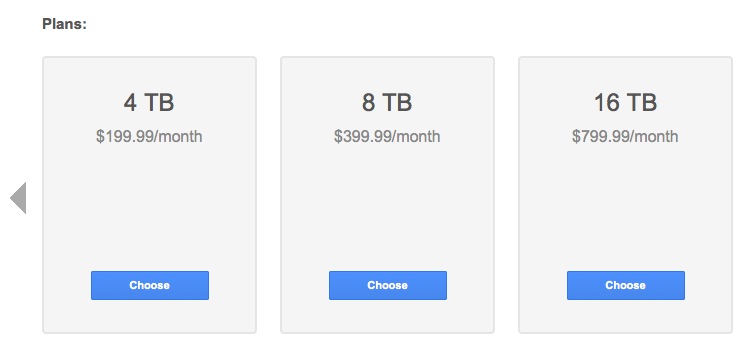 Recently, google has added this Terabyte storage plans to let Business or Enterprise users choose the one they wanted. People who are into Designing business mostly require high storage as they cannot delete the files they receive from their clients or send to their clients. They need to keep a backup of everything and such people can utilize this high storage plans at best cost saving price compared to many other storage services.
Photographers who want to store more photos in high definition also choose these terabyte plans to stop worrying about storage limits.
To upgrade google storage of your account, visit Google Drive Storage page now after logging into your google account. Choose the plan you wanted and proceed with the payment process. You need a credit card to complete the payment.